About Us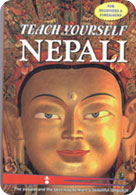 After gathering many experiences in Nepali language field, in behalf of the Namaste Nepali Language for foreigners, I would like to express my heartfelt wishes to all students those who are engaging in voluntary works as well as temporary residents in our country to gain knowledge on Nepali language at our institute. You can discover a difference while you are learning here, because you can get the practices from pre basic level. This institute is conveniently located in Jyatha, Thamel which is introduced as the heart of touristic city cum renowned commercial place for all of us.
Dear learners, you can have different levels from conversation up to a dept study (advanced level).
I would like to assure you to fulfill your requirements on knowledges of Nepali language. You can get the methods in not only learning Nepali language, but also some knowledges traditions, Nepali customs and culture of our country.