Recommendation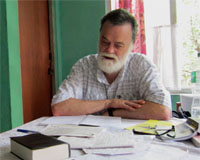 I have been practicing conversational Nepali at the Namaste Nepali Language Institute with Urmilaji two hours per day for a month. I have found Urmilaji to be a talented, conscientious and hard-working language teacher. Her own studies in languages and fluency in English, French as well as her sophisticated understanding of language concepts and grammar made her an ideal teacher in Nepali for an English and French speaker. Urmilaji has been very flexible and adaptive in her teaching, ever ready to follow my particular interests and topic I suggest. I can well recommend her as a teacher of Nepali.
John Moran
50 Craig St.Newpart, VIC 3015,Australia.
31/08/2012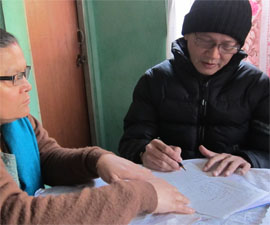 On behalf of myself, I felt so proud of deep satisfaction by the conversational way of Nepali Language learning procedure among other ways of learning techniques. If anybody wants to learn in easy and reliable way of learning method, it will be very adoptable way for those who are very eager to learn Nepali. Please donít forget to have information about learning Nepali Language at Namaste Nepali Language at Thamel. Again I would like to remind you people about the flexibility of time too because you people can get time there for your valuable lessons as convenient as your own convenient times. Lessonsí charges are also affordable there with compare to other institutes. So that I wish for you people not making any delay without any hesitation to arrive there as soon as possible.

William Leong
15th December 2012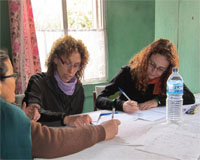 From our learning point of views after becoming abled students, we thought that it is very indispensable to start our lessons in conversational as well as written forms in Nepali Language procedure at Namaste Nepali Language Institute, Jyatha, Thamel situated at easy to approach area. Including such valuable instructions for new comers as you people we would like to mention our advices not to forget to get inquiries about this useful language. Though you had no many leisure days we achieved much more ideas and rules about Nepali Learning methods. We got extremely satisfied there because, we never missed our scheduled classes even we were in busy hours. So that in anyway teacher intensely performed our whole lesson without making any wastage even few minutes. Will you people believe us in this matter? If not, please get information definitely start to think about taking classes according to your necessities because some people may not get many days of holidays to perform their Nepali Language study programs. For such students teacher will consider to fulfill their language class anyhow. We are actually the project supervisors in Hetauda District in Nepal. We had to go there within ten days, so that we performed at least six hours per day even on Saturday without letting ever half an hour throughout our whole lessonsí period. Thatís why we would like to suggest for different nationals could get valuable information for Nepali Language there. Thank you very much in advance. Like us, other students in very near future may get such recommendations.

Sancuit, Laura and Aragones, Biatric
9th December 2012